Piper Reed Navy Brat
Written by Kimberly Holt
Illustrated by Christine Davenier
Reviewed by Annabelle N. (age 9)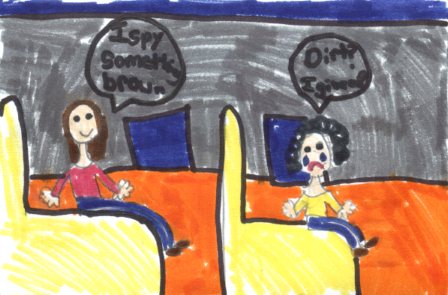 Are you the middle child? If you are, then you know how 9-year old Piper Reed feels in the book, Piper Reed Navy Brat by Kimberly Wills Holt. Piper has two sisters: Tori, the older, meaner sister, and Sam, the smarter, younger one. Piper is just Piper. Their dad is in the Navy so they have to move a lot. That's usually easy for Piper because she is good at making friends, but it's not as easy for Tori because she doesn't like being a Navy brat. But when they move to Florida, things change. Piper doesn't like her new house because she has to share a room with Sam. One night, her parents make an announcement that might change Piper's attitude about Florida. Read the book to find out what the announcement is and whether or not Piper's life is changed for the better.
I really like this book because the events are funny. I like the part when they are playing "I Spy" in the car. Piper usually says she spies things that really aren't there and nobody can guess what they are. This time she says she sees a two-headed cow. Nobody could get it so they all give up. When Piper tells everyone what it was, her younger sister Sam started crying, "I wanted to see the two-headed cow!" Tori yelled, "She just made it up!" This book reminds me of a book called Sisters by Raina Telgemeier because both of the books are about sister issues.
I recommend this book to third to fifth graders who like adventures because one time when Piper was going horse-back riding with her cousins, she was about to ride the horse backwards. I would give this book 5 stars because it made me laugh. If you are having problems with moving and starting over, this book is for you.