Jinxed!
Written by Kurtis Scaletta
Illustrated by Eric Wright
Reviewed by Gavin D. (age 9)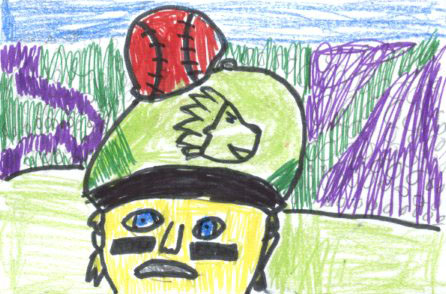 Chad is an enthusiastic batboy for the Pine City Porcupines, the single A baseball team, currently in last place. He is trying to get the shortstop Mike Stammer out of a jinx. Chad thinks if Mike gets better, then the team will get better. Mike Stammer's fielding has been terrible all season. For example, in a game against the Humdingers, he tripped over his legs and missed the ball for what should have been an easy out. When Mike finds a rabbit outside the ballpark, he brings it to the game for good luck, but it doesn't work. During the seventh inning stretch, Chad tells the junior mascot to give Mike a baseball card for good luck. But will it work? Read the book to find out!
I like this book because the events are humorous. My favorite part is when the Porcupines players made a rookie teammate look like a rat! They made him look like a rat because he fell asleep on the bus. They put eye black on his face to give him whiskers and they made cardboard ears and put it on his hat. He didn't notice until Chad pointed it out. I like Chad because he is determined when he tries and tries to get the team out of last place. There is an important lesson in this book. The lesson is: never give up. The Pine City Porcupines are in last place in the beginning and they didn't give up.
I give JINXED! two thumbs up for making me laugh and keeping me at the edge of my seat! I recommend JINXED! to kids grades 3 through 5 who like sports because the book is about baseball. If you have ever struggled while playing baseball, this book might be especially meaningful to you.