Because of Winn Dixie
Written by Kate DiCamillo
Reviewed by Renton R (age 8), Hudson B (age 8)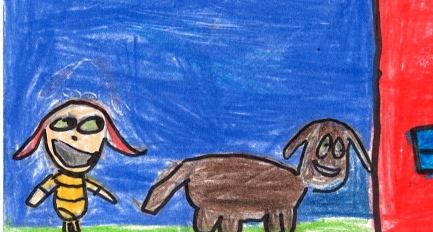 Join India Opal Buloni in her adventures as she meets new friends along the way. On her way through town she has lots of fun...and it's all because of a dog named Winn – Dixie. (Winn -Dixie got his name from a grocery store that Opal found him in).
Our favorite part of the book is when Opal finds Winn-Dixie after the storm. It's funny since he was under the bed in Gloria's room the whole time. We liked the story because its funny, sad and it's an any age book. We both made a connection to Opal because both of our pets ran away because of thunder. Renton is most like the preacher because he likes to be by himself a lot. Hudson is most like Opal because he shares a love of animals with Opal. He likes to spend a lot of time with his dog too, just like Opal spends a lot of time with Winn – Dixie.
We would recommend this book for all ages because it's a heart warming tale. The reason why we think it is such a heart warming tale is because the characters are adventurous and have a lot of excitement.