Because of Winn Dixie
Written by Kate DiCamillo
Reviewed by Elliott J. (age 8)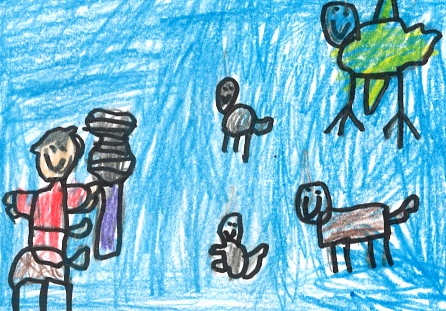 "That's my dog!" said a girl named Opal. That is the beginning of the book, Because of Winn -Dixie where a girl named Opal finds a dog at the store and names him Winn - Dixie. She claimed him because she didn't want him to go to the pound. Opal and Winn - Dixie make lots of friends on their journey like Gloria, Otis, and many more. Near the end of the book, Gloria throws a party, and in the process they lose Winn-Dixie when a thunderstorm strikes. If you want to know if they find him, then you will have to read the book yourself.
Elliott relates to Opal because he has lots of friends and a dog. His dog's name is Zoey, and he cares for her like Opal cares for Winn - Dixie. Elliott's favorite character in this book is Otis. Our favorite part is when Otis said he went to jail. Not that going to jail was good, but his going to jail surprised us because that was totally not how his personality is. Opal was as surprised as we were that he had gone to jail because he was so shy, but he is still a nice person.
Elliott would recommend this book to people that like dogs, adventure, and sad stories that turn out happy. People will like the parts when Winn - Dixie got lost in the storm and gets found, or when Otis played music to the animals in the pet store. Irish recommends this book to friends and family that like dogs, adventure, and sad stories that have a happy ending. This book is for everyone of all ages.