On The Banks of Plum Creek
Written by Laura Ingalls Wilder
Illustrated by Garth Williams
Reviewed by Amaya M (age 10)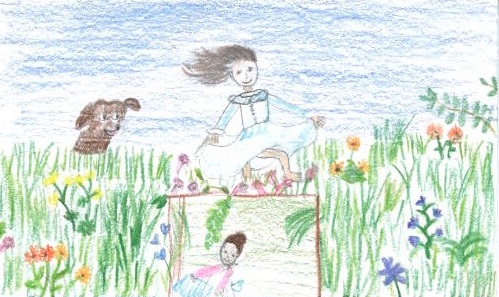 From a covered wagon to a house under ground ! On the banks of plum creek is about a family who is traveling to get to their new house . It turns out that their new house is in the ground ! Near by their house , there is a creek called Plum Creek . Laura , the middle sister is always getting into mischief but always finds a way to have fun no matter what everybody else thinks . Later , something very surprising happens for the whole family happens , which makes it hard to afford food . Laura and Mary do something they are not supposed to do , but saves the day . The two girls are very helpful and are always kind . Read to find out if everything works out for Ma , Pa , Mary , Laura and Carrie .
I think this book is exciting because new things are always happening. This book always leaves you wondering what will happen next. This book is very funny because Laura is always getting into mischief and having all sorts of fun. When Laura will not listen to Pa and goes on the hay bale, it will make you laugh.
I recommend this book for 9-11 year old kids who like stories from the old fashioned days with lots of creative words but still like some pictures in the chapter books that they read. Go get On the Banks of Plum Creek and start reading!