Katy No Pocket
Written by Emma Payne
Illustrated by H.A. Rey
Reviewed by Otavio W. (age 8)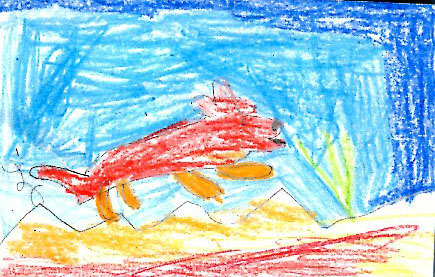 This story is about a kangaroo named Katy who didn't have a pocket and she was very sad. She couldn't carry her little boy Freddy around and she didn't know what to do. Then, she had a wonderful idea! She decided to ask other animal mothers without pockets how they carry their babies. She asked Mrs. Crocodile, Mrs. Monkey, and other animal mothers too. Then, she went to see the wise owl and ask him how she should carry around her little boy. He told her to go get a pocket and to look in the city for one. So, Katy and Freddy went to the city in search of a pocket. They saw pockets everywhere! They even saw a man covered in pockets. Does Katy find a pocket? If you want to find out, then read this wonderful story.
I like this story because it has very colorful illustrations. I also like this story because Katy the kangaroo is a kangaroo without any pockets. I like when Katy and Freddy go to the city in search of a pocket. I like the city because there are a lot of people there.
I think second and third graders would love this to read this fun story!