Poppleton
Written by Cynthia Rylant
Illustrated by Mark Teague
Reviewed by Kevin R. (age 8)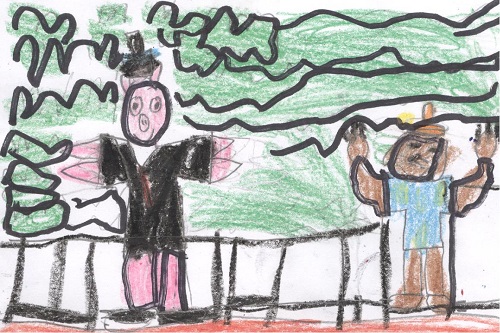 Do you like books by Cynthia Rylant? This is a book about Poppelton. Poppleton is a city pig who decides to move to the country. He meets his amazing neighbor Cherry Sue, who is friendly. But sometimes Poppleton does not want the food that Cherry Sue makes. How does Poppleton get away from Cherry Sue's food? Please read to find out.
I like Poppleton because he is a fair pig and a funny. I like the pictures because it looks colorful. This reminds me about the time when I played with the hose and I spashed my sisters in the summer. My favorite part is when Cherry Sue brings food to Poppleton and Fillmore because they are sick. This book is special because it has many chapters that I like and also each chapter is a different story.
I think kids should read this book because Poppleton is funny character. He squirts his friend with a hose and tricks another friend to take medicine. Children who like to read about pigs and animals would enjoy this book. Poppleton is a funny and good friend. The reader will like the colorful pictures. Also it is a series book and if you like this one, you can run to the library and read the other Poppleton books.