Cam Jansen and the Mystery of the Missing Dinosaur Bones
Written by David A. Adler
Illustrated by Susana Natti
Reviewed by Jamie B. (age 8)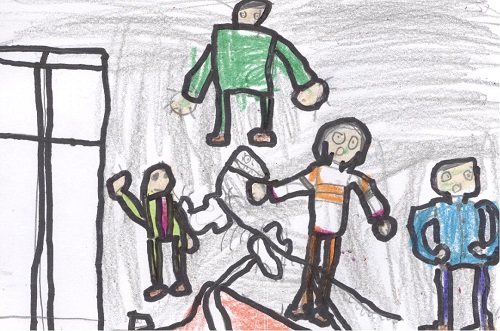 Have you ever seen a dinosaur exhibit inside a museum? Did you ever look at it closely to see all of the bones? Well, Cam and Eric go on a field trip to the museum and look at a coelophysis that is a kind of dinosaur. A person stole the bones it was….. you are going to have to read if you want to find out.
I like Cam Jansen because she has a great memory and has a side kick named Eric Shelton who always helps her. This reminds me when I had to help my sister find her earring. I found them in the car. My favorite part is when Cam and Eric blew the dog whistles to scare the robbers away. Then they were able to take the bones back to the museum. An interesting character was Ms. Tyler because when Cam saw that there were three missing dinosaur bones he told Ms. Tyler. Ms. Tyler was sneaky. I think kids should read this because this book is great and people that like mysteries.
I think kids should read this because if you like mysteries and dinosaurs than this is the book for you. I think a reader that likes science and enjoys mysteries would like this book because they will have fun gathering clues to solve this crime. You will have to read the book to see if this plan works out.