There Was an Old Lady Who Swallowed a Shell!
Written by Lucille Colandro
Illustrated by Jared Lee
Reviewed by Wade Ciluzzi (age 7)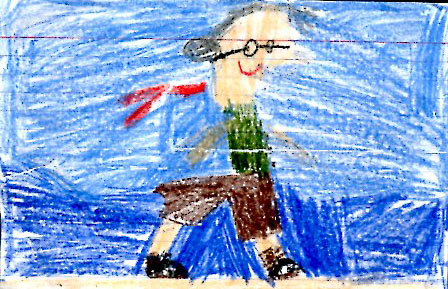 This story takes place at the beach. There is an old lady and she swallows a shell and she doesn't tell why she swallowed the shell. Next she swallows a crab to live in the shell. Then she swallows a fish. The fish swallows the crab. She swallows a gull to eat the fish that swallowed the crab. And then she swallows a pail to carry the gull. After that she swallows sand. Lastly she swallows a wave. She swallows all these things to make a sand castle. She burps and out comes a sand castle.
My favorite part is the end when she burps and all those things make a sand castle. I like because it reminds me of being at the beach. In my opinion when the seagull scoops up the fish that is the best illustration in the story.
I recommend this story because it repeats lines like a song and the lines have a rhythm, for example, "There was an old lady who swallowed a fish. What a tickly dish, that swimming fish.