The Maze Runner
Written by James Dashner
Reviewed by Timmy J. (age 9)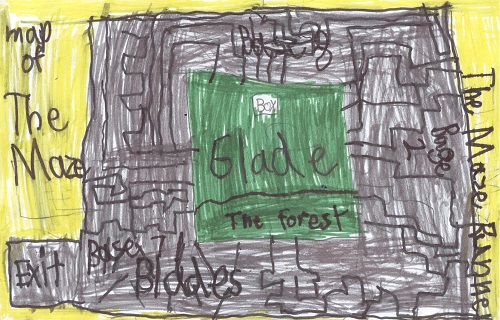 The Maze Runner is about a boy named Thomas who wakes up in a box and finds himself around a bunch of teenage boys in a giant maze! He meets many people like Newt, a British boy who helps him throughout his journey. Then there's Chuck, a boy with curly brown hair who becomes Thomas's best friend in the maze. And even Alby, the leader of the glade. Thomas had so many questions about how he and the boys got there. And who put them there? And what is going on? To answer these questions read The Maze Runner!
I thought The Maze Runner was an amazing book. The characters were my favorite part of the book because they were adventurous. I loved the book because it was so different than any other book I read because people were trapped in a giant maze and couldn't get out. Have you ever heard of that? My favorite part was when Thomas was trapped in the maze and grievers attacked him. It was really cool when Thomas jumped out of the way and let the grievers fall down a cliff. My favorite character is Newt because he was Alby's second in command. He is really kind to Thomas and the other boys. For example, Thomas wanted to be a runner and other people disagreed. Newt believed in him and made him a runner.
I think kids should read this book because it is action packed and very mysterious. People who like mystery, action, and drama would love this book. What might interest the reader is the middle and the end but I can't tell you what happens but you can read the book to find out what happens!