I Survived The Battle of Gettysburg, 1963
Written by Lauren Tarshis
Reviewed by William I. (age 9)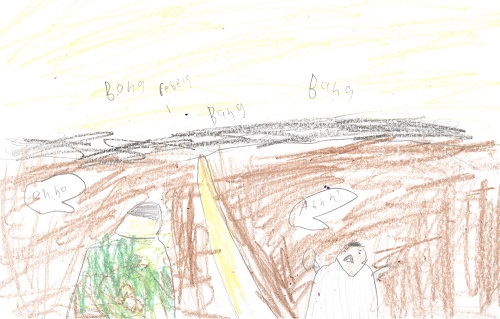 If you like books about tragedies throughout American History, than you will like the book I Survived: The Battle of Gettysburg. It is about a boy named Thomas, who was a slave in the 1800's. The story can put some disturbing images in your mind but, that's what keeps you hooked!
I think the book was awesome but, some parts made it disturbing. Right away, the book started with Thomas getting shot by an enraged British soldier. I liked the book because of all of the action and sad moments it took me through. All throughout the book I was anxious about if the main character would survive or not. The book was unique because the series that it's in shows tragedies throughout American History. The author makes it more action packed. I think that is pretty cool. The main character, Thomas changed from the beginning of the book to the end. In the beginning, he was care free living with his sister, Birdie. But, towards the end he was scared and cautious. He did not want to get caught by British soldiers.
I think kids ages 9-13 would like this book because its action packed and has some exciting moments. I think people that don't have a weak stomach should read this book because of some of the disturbing moments in the book. In the end, there is a surprise ending that would interest the reader because you know… it's a surprise!