Fancy Nancy: Apples Galore
Written by Jane O'Connor
Illustrated by Robin Preiss Glasser
Reviewed by Taylor L. (age 7)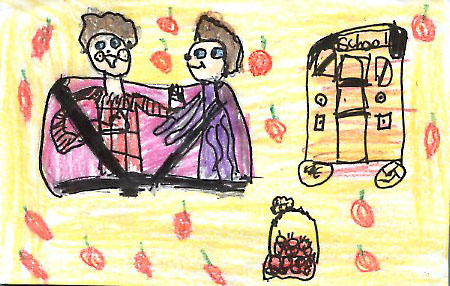 Fancy Nancy Apples Galore by Jane O'Connor is a great story. In the beginning, Fancy Nancy was going on a field trip to go apple picking. She got a basket and started apple picking with her buddy Lionel. Lionel juggled apples, lied about getting stung by bees, and climbed a tree when he wasn't supposed to. The branch started cracking and Lionel yelled, "Help!" Will Fancy Nancy help her trip buddy? Read the book to find out.
I like this book because it is funny when Lionel gets in trouble. This book reminded me of my brother because he is sassy like Lionel and he doesn't listen. This is a great book because there is a lesson. The lesson is you should never joke about getting hurt because if you really need help no one will believe you.
I recommend this book because it teaches a lesson. If you like Fancy Nancy you will love Fancy Nancy Apples Galore. You should get this book at the library today.