Say Hello to Zorro
Written by Carter Goodrich
Illustrated by Carter Goodrich
Reviewed by Teddy P. (age 8)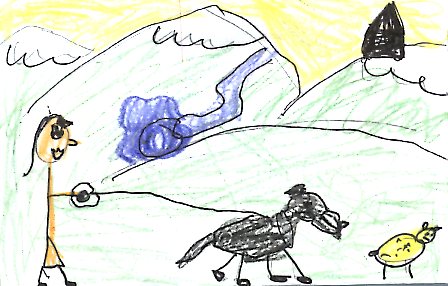 In the book Say Hello to Zorro! by Carter Goodrich Mr. Bud, the dog, has his own schedule. First he wakes up and greets his owner. Then he gets a biscuit and takes a walk. Then he naps. Everyone sticks to his schedule. Then Zorro moves in. It was hard at first, but Mr. Bud realized that he and Zorro had the same schedule. Read to find out if the two dogs can get along.
Say Hello to Zorro! is one of the best books in the world. My favorite character in the book is Zorro because he has cute little ears and he is a pug. Pugs are one of my favorite dogs. Also, his tail is adorable. I like when the two dogs play together. I like this book because it is very cute.
I recommend this book because it tells how to be kind to others. If you like dogs then you would definitely love this book.