Mean Jean the Recess Queen
Written by Alexis O'Neill
Illustrated by Laura Huliska
Reviewed by Ava T. (age 7)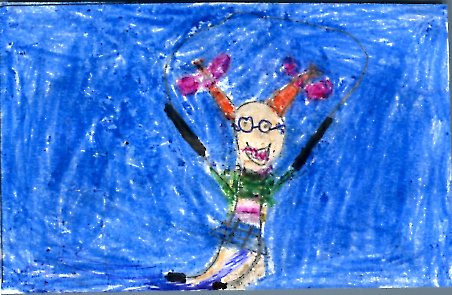 "I like popcorn, I like tea, I want Jean to jump with me!" Will Mean Jean play? Read The Recess Queen by Alexis O'Neill and Laura Huliska-Beith to find out what happens.
The Recess Queen is a great book. This story is about how a girl named Mean Jean is a recess queen. She smashed kids, she wouldn't let other kids use the toys, and she made everyone else wait until she went first. One day a girl named Katie Sue asks Mean Jean to play with her. Will the recess queen play nicely? Pick up the book to find out.
This is a great book because it teaches how to make friends. My favorite character is Mean Jean. She pushed kids on the playground, but Katie Sue stopped all that.
I recommend this book because it teaches not to be mean. If you like making friends then read this book today!