Randy Riley's Really Big Hit
Written by Chris Van Dusen
Illustrated by Chris Van Dusen
Reviewed by Reese L. (age 8)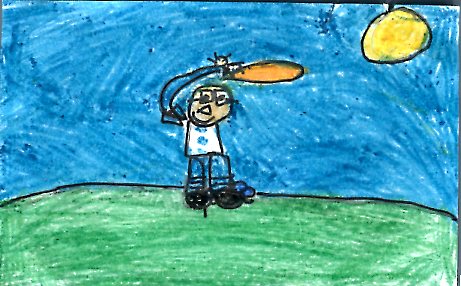 "A mysterious thing is approaching, it just flew past the moon, it's happening this afternoon!" said the news announcer. Read Randy Riley's Really Big Hit by Chris Van Dusen to find out what happens to Randy Riley's town.
In the beginning, Randy Riley was at baseball practice. Randy struck out when he was at bat. He went home and he was upset because he stunk at baseball. So he played baseball with his robots. That night, Randy scanned the sky with his telescope and he saw a fireball. Randy figured out that the fireball was going to crash into his town in 19 days. Randy told his parents about the fireball, but they didn't believe him. So Randy was going to build something to stop the fireball. Will save the day? Pick up the book to find out.
My favorite part is when the giant robot helped Randy Riley hit a homerun and instead of a baseball Randy Riley hits the fireball. I also like the part when the parents find out about the fireball. I think this part is funny because the mom spills the breakfast. In addition, this is a great book because its about baseball and I like playing baseball.
I recommend this book because it teaches you to always try your best. If you like baseball then you would love this book.