A Weekend with Wendell
Written by Kevin Henkes
Illustrated by Kevin Henkes
Reviewed by Madyn F. (age 8)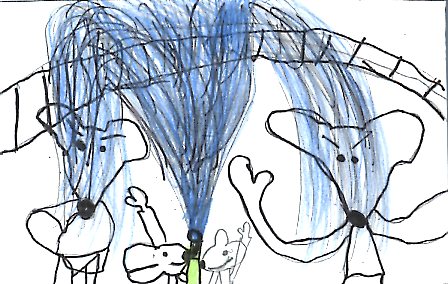 The book A Weekend with Wendell by Kevin Henkes is a wonderful story. In the beginning Wendell's parents dropped him off at Sophie's house for the weekend. Sophie carried all of Wendell's things upstairs. Wendell made all the rules for playing house, doctor, and bakery. Sophie wasn't included and wasn't having fun. At dinner, when Sophie wasn't looking Wendell scooped her whipped cream off of her dessert and ate it. Wendell scared her by jumping on her bed, he pulled her foot at breakfast, and he didn't clean up her crayons and they melted. Will Wendell and Sophie become friends? Read to find out!
I enjoyed reading this book because I like when the author makes the kids fight. I also liked how at the end they started playing together and having fun. I like how at the end Sophie couldn't wait for Wendell to come back. At the same time Sophie's parents shouted, "Never!" I thought this was funny.
I think you should read this book because sometimes kids start fighting and then they will start playing, laughing, and having fun. Pick up A Weekend with Wendell today!