The Mysterious Tadpole
Written by Steven Kellogg
Illustrated by Steven Kellogg
Reviewed by Evan B (age 8)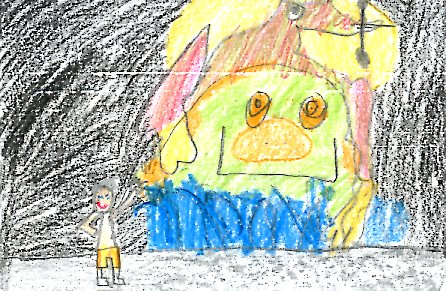 This story starts off like this. Louis got a tadpole for his birthday from his uncle McAllister. Louis named the tadpole Alphonse. He brought him to school to show and tell. The teacher tells him to bring Alphonse back every week to watch him grow into frog. Alphonse begins to grow bigger and bigger. Louis thinks it's because he eats only cheeseburgers. They play soccer together and they take him to obedience school for dogs because he so out of control. He learns sit, stay and retrieve but he's not a dog. What is he? He outgrew the sink so they move him into the shower. Louis's teacher asks him not to bring Alphonse anymore because he is too big. He outgrows the tub so they move him into the swimming pool at the high school. Louis visits him every day but Alphonse ends up scaring the swim coach, and he has to be relocated. That's when they realize Alphonse is the Loch Ness monster. Read the book to find out how Louis and Alphonse solve the problem about where Alphonse should live.
In my opinion this was a good story because it teaches about he legend of the Loch Ness monster. I liked because Alphonse gets his own pool built, and I would like my own pool. My favorite part is when Louis and Alphonse go to the ocean. Louis tells Alphonse to retrieve and he retrieves a treasure chest full of gold.
I recommend this book for kids because I think they would like pictures the illustrator draws.