Splat and the Cool School Trip
Written by Rob Scotton
Reviewed by Kauan D. (age 7)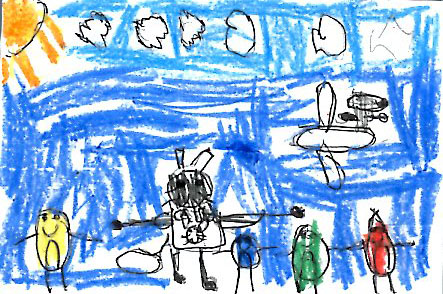 The story starts with Splat excited to go to the zoo. Splat is so excited to see the penguins. he thinks they're the best. Seymour wants to go to the zoo too, but Splat says no because elephants are scared of mice. Splat rides the bus to the zoo. Seymour gets to the zoo in a paper plane and crashes into an elephant. The elephant ran away and crashed into the pool Splat was so sad because the penguins couldn't go in the pool and he can't see the penguins. Seymour tells the penguins to follow him. Read the to find out where the penguins go.
My favorite part was when Seymour rides in the paper airplane. Seymour looked silly riding in the plane. It made me laugh.
In my opinion, kids will like this story because it takes place at the zoo and kids like the zoo.
I liked it because the pictures of Splat, Seymour and the penguins were well done. They were drawn with silly expressions on their faces that will make you laugh.
I recommend this book because it has a happy ending because Splat gets to see the penguins.