Say Hello to Zorro
Written by Carter Goodrich
Illustrated by Carter Goodrich
Reviewed by Tyler G. (age 8)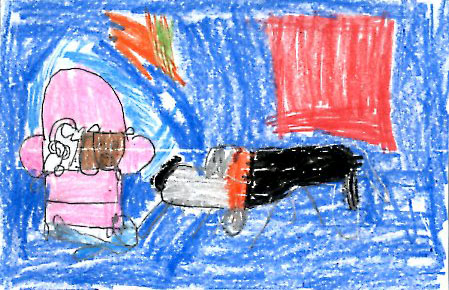 I chose the book Say Hello to Zorro. The story is funny. Mister Bud had his own house, bed, toys, dish and most of all he had his own schedule. Zorro is moving in with them. This is a problem because they don't get along. Zorro had his own things and could be bossy. My. Bud had his own things and could be grumpy. Then they found out they had the same schedule. Life was more fun. They walked together, napped together, they were louder together, and bed time was more exciting. Read the book to find out if they always get along.
My favorite part of the story is when they were chasing the cat on their walk.
I recommend this story because it teaches you not to be bossy or grumpy all the time and even if you're different you can be friends.
In my opinion this was a great story to read about friends.
I would recommend this book for kids. It is a funny book. You should read it. It is funny when Zorro hogs the toys on the chair. What I like about it is when they chase the cat because the drawing of the cat running and Zorro and Mister Bud chasing him makes me laugh.