Stuck
Written by Oliver Jeffers
Illustrated by Oliver Jeffers
Reviewed by Dylan K. (age 8)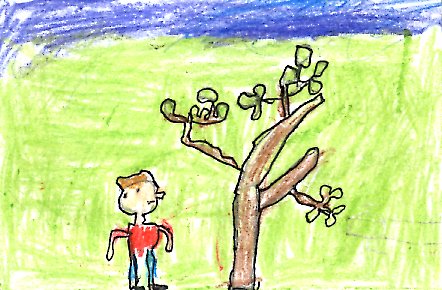 This story is about a boy named Floyd whose kite gets stuck in a tree. So he throws his favorite shoe in the tree to knock it down, but that gets stuck too. So he throws his other shoe in the tree but that gets stuck too! He keeps throwing stuff up and they keep getting stuck. He threw a cargo ship in the tree. Now that is amazing! He threw people in the tree too like the milkman. If you want to find out the rest of it, you'll have to read the book.
This book was great because Floyd threw a load of things in the tree to get down his kite which was stuck in the tree. All of the things he threw in the tree were ridiculous. That made the story funny. It was hysterical. The book has bold writing and the illustrations have funny little parts like the speech bubble that says, "Wait til I tell your mother!" I just think this book it so funny.
I recommend this book to kids 7 to 10 years old because they will think it's funny. There was lots of crazy stuff in that tree that kids will laugh about. Also it had a great ending.