Lost and Found
Written by Oliver Jeffers
Illustrated by Oliver Jeffers
Reviewed by Sam R. (age 8)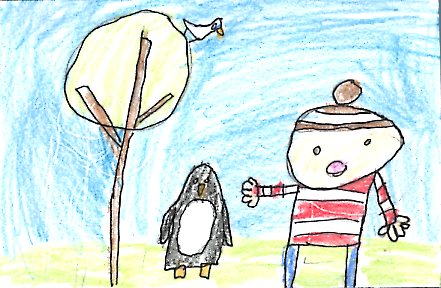 In this book a penguin came to a boy's front door. The boy did not know where the penguin came from. So, he checked the Lost and Found office. But, no one was missing a penguin. So he asked some birds if they knew where the penguin came from, but hey ignored him. That night he asked this duck, but the duck floated away. The next morning he discovered that penguins come from the South Pole. So he ran to the harbor and asked a big ship but the answer from the ship was too small to hear over the ship's horn. The boy decided he and the penguin would row to the South Pole. The boy took his rowboat out and tested it for size and strength. If you want to know the rest, read this story.
I liked this book because it was interesting when the penguin came to his door unexpectedly. I also liked the pictures. They were great because the artist did a good job. They looked nice. It was also interesting when they went into a rowboat to row to Antarctica.
I recommend this book to Kindergarteners up to second grade because it is easy to read. It is funny and interesting. The characters were animals which is fun for kids.