Fancy Nancy: Apples Galore
Written by Jane O'Connor
Illustrated by Robin Preiss Glasser
Reviewed by Lavinia R. (age 7)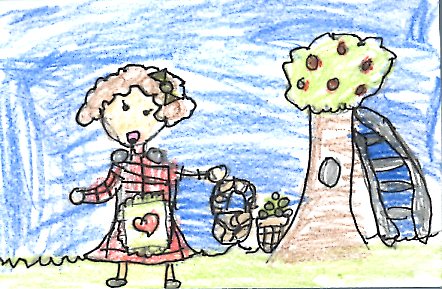 In this story a girl named Nancy goes on a field trip with her class. Her buddy's name is Lionel. He's a big goofball. They pick honey crisp apples and Jonathan apples. Lionel says bees are getting me which makes everyone laugh. The teacher does not. He can't go on the hayride. They find Gala apples, but it is a problem because they are high in the tree and the teacher told them not to climb. Lionel does anyway. When he is high in the tree a branch starts to break. They call for the teacher, but she's too far away. Nancy tells him to jump but it's too high. To find out what happens to Lionel and Nancy, read this book.
I liked this book because it has funny parts. For example it was funny when an apple fell right on Lionel's head. It was an exciting story. When they were on the bus I was just wondering what would happen on the trip. It made me wonder if people believe the little jokes like Lionel did in the story. It was a great book.
I think you should read this book because it is a very exciting story. It is colorful. I think it is good for second graders.