Treasure Island (Classic Starts)
Written by Robert Lewis Stevenson
Illustrated by Lucy Corvino
Reviewed by Spencer S. (age 10)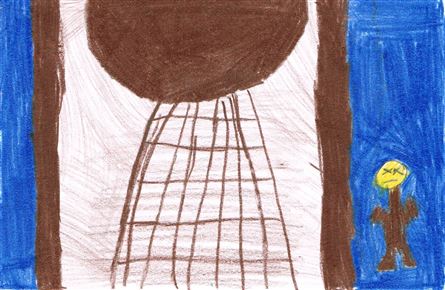 A boy named Jim owns an inn with his mom. One day a pirate named Billy Bones comes to the inn. After a couple of days a guy named Black Dog comes by and Billy starts attacking him. Billy gets a stroke and Black Dog runs off. The next day a guy named Pew comes by and gives Billy the black spot. Then a little while later Billy dies. Then later that night pirates come, so Jim and his mom go to Billy's chest and take stuff. Jim didn't realize that he took the map to Treasure Island. So Jim, a doctor, and a man named Long John Silver and his crew go to get a boat that is named The Hispaniola. They make it to Treasure Island. You will have to read the rest of the book to see if they find the treasure.
My favorite character was Jim because he got into a lot of trouble. He also traveled on a ship. He also got into fight with pirates. In the book I would always wonder what would happen next. This book was kind of like Goosebumps Horror Land when they wanted to escape because a guy was chasing them. When on Treasure Island they wanted to leave because they didn't want to get killed. My favorite part was when Jim cut the hawser of the boat and things got intense. The book made me feel happy when I was near the end because a lot of happy things happen towards the end of the book.
I recommend this book because it is very action packed and it has a lot of detail. I think people that like action in books should read this one because there is a lot of action. The interesting parts of the book are when Jim gets into trouble and that's why I recommend this book.