The Snow Queen
Written by Amy Ehrlich
Illustrated by Susan Jeffers
Reviewed by Lucy G. (age 12)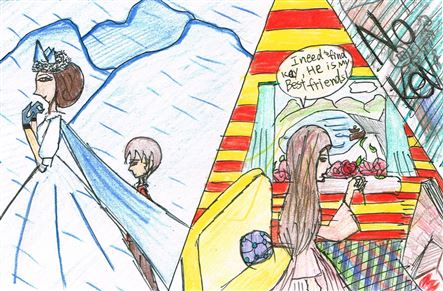 The book I read is "The Snow Queen." It is a book by Hans Christian Andersen. In the story, Gerda and Kay are best friends, until Kay suddenly changes. Then Kay is kidnapped by the wicked snow queen and everyone thought he was lost forever. But Gerda didn't think so. She thought Kay never changed and would come back. She went to find Kay. During the journey, a lot of people helped her. Finally she found Kay, and took him away from the snow queen. Kay changed back to himself, and they were still friends.
In my opinion this book is very good. First, the story is a very beautiful story. Second, the author wrote the story using a lot details. I like this book very much. My favorite part is chapter 2 because in chapter 2 Kay and Gerda trust each other, so this makes them friends forever. It is different from other books, because it has more pictures than other books do, and the people's conversations are inside the pictures like in comic books. The people's clothes and hair are described in detail. Also this book is similar to other stories by Hans Christian Andersen, because the Hans Christian Andersen's stories often have magic.
I recommend this book, because the story in this book is pretty good. Inside of this book there are lots of pictures to help readers understand the story. The pictures also make the book more fun to read. I recommend this book since this story is a beautiful story. I think primary school students, especially girls, would like to read this book.