The Witch of Blackbird Pond
Written by Elizabeth Speare
Reviewed by Taylor T. (age 10)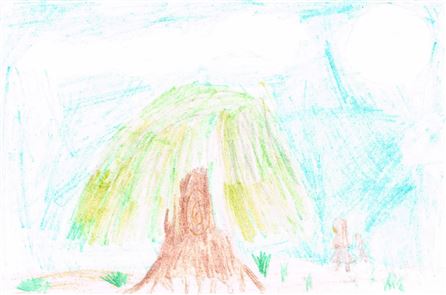 This book is about a 16-year-old girl named Kit. She lived in Barbados. Her parents died when she was very young. They were shipwrecked. They left her with her grandfather, Sir Francis Tyler. He was an owner of a large plantation, so he was very wealthy. Everybody respected her. She had the life mostly everybody wanted. She had a big house, servants to help her with every need, and a loving grandfather to look up to, but that ended when her grandfather died. She had to sell the plantation to pay the bills. She had nothing in Barbados, so she moved to Wethersfield, Connecticut. That's where they said her beautiful Aunt Rachel lived.
She took a boat called The Dolphin. It was a long journey. Since people in America had very dull clothing and Kit had these amazing silk clothes, they stared at her like she didn't belong there. She met some people, like John Holbrook, who did respect her. He wanted to become a doctor and go to Harvard. She also met Nat. He was the captain's son. Kit did something that no one would do for a little girl named Prudence. After that Nat mocked her every time they spoke. If he didn't mock her or that then he would do it again when Kit said something that offended him.
When they got there, Kit met Aunt Rachel's children. They were about her age. Kit realized that Aunt Rachel wasn't that beautiful anymore. Her children were Judith and Mercy. Judith was very beautiful, but Mercy had amazing eyes. She had a problem with her shoulder so it was hard for her to walk. Later on in the story Kit ran crying to the meadow where she felt most at home and met Hannah Tupper. The whole town thought she was a witch because she a Quaker. Kit might be suspected that she was a witch, too. Will Kit leave her only friend in Wethersfield or stay and be suspected of being a witch? Kit also met love along the way in Wethersfield, Connecticut, and you're just going to have to read to find out who it was.
I think this book is amazing. It has so many twists and turns, and there are more differences than similarities among the characters. If we compare Mercy to Kit, Mercy doesn't mind listening and sitting forever while Kit needs to move around and speak her mind. I felt like this book was a bit like Cinderella because there were times when there was love and misunderstanding. The book reminds a bit of my life. You might assume something about someone, but it may not be true.
I think readers who like romance will enjoy the book. Gradewise it would be for students 3rd to 7th. There are a lot of words that are challenging, and it is hard to understand it at some points. I think readers might like the characters because they have so many differences. One of the lessons is ''Never judge a book by its cover."