The Witch of Blackbird Pond
Written by Elizabeth Speare
Reviewed by Nina G. (age 10)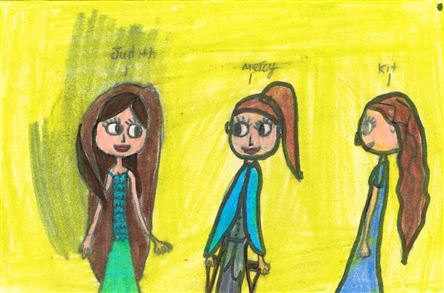 Kit grew up on an island called Barbados in the 1600's. She loved it there and she was with her grandpa. When her grandpa died, she went to live with her Aunt Rachel and Uncle Matthew in Connecticut. She went on a boat called The Dolphin to go there. When she was on the ship, she met a boy named Nat. They were talking until a kid lost a doll in the sea. Kit dived into the water to get it and she got it. When a normal person dived in they usually drowned, so the townspeople believed that only witches could float. Kit did float (she was able to swim) so everyone looked at her and judged her. Nat was surprised too.
When she got to Aunt Rachel's house in Wethersfield she met 2 of her cousins, Mercy, who had crutches, and Judith. The next day Kit let Mercy and Judith try on her dresses and Matthew thinks she is so vain since she has fancy dresses. When she got a job at a school they kicked her out. She made it too fun. One day when she was in the woods she found an old lady named Hannah Tupper who lived in a tiny cabin with a cat. One day she met a boy named William who liked Kit and you will find out more about them when you read the book.
I think the book is exciting, fun to read, and unpredictable. You never knew what was coming up next. I think you should read it because it has a lot of plot twists. My favorite part in the book was when they tried on dresses because I love fashion and the Puritans wore gray so it was an exciting moment. This book did not remind me of any other book. I learned a lesson from this book and it is never to judge a book by its cover. This book made me wonder if witches were bad people. It made me wonder if witches exist and if men could be accused of being witches, too.
I think everyone 4th grade and up should read this book. I think you should read it because there are so many cool and interesting things that happen. I think a reader that is patient, likes history, and likes unusual books would like this book. You might like it because of the twists, turns, and love story, and because of the characters like Kit, Mercy, Judith, and Hannah. They are the ones who have the most action going on in their lives.