Dragonbreath
Written by Ursula Vernon
Reviewed by Clark R. (age 8)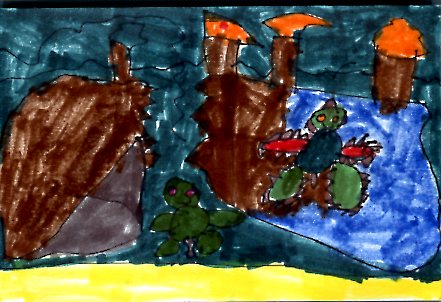 The story is about Danny the Dragon and his friend Wendell the iguana. The adventures they have are cool. In one of their adventures, they go to the sea with Danny's cousin. When they go deep down in the sea, they get attacked by a giant squid. Another adventure is when Danny's potato salad comes alive and stabs a bully named Big Eddy with a fork. Then the potato salad escapes down a sewer. There are lots of silly adventures!
I think Dragonbreath is very funny because they say funny things and have funny plans. My favorite part was when Wendell got splattered by a sea cucumber. Wendell was just looking at it and then got a surprise! I like the illustrations because they are like pictures in comic books.
I think you should read this book because I thought it was hilarious. Children who are seven and older would enjoy this book. If you like funny and crazy adventures, this is the book for you!