The Adventures of a South Pole Pig
Written by Chris Kurtz
Reviewed by Lucas O. (age 9)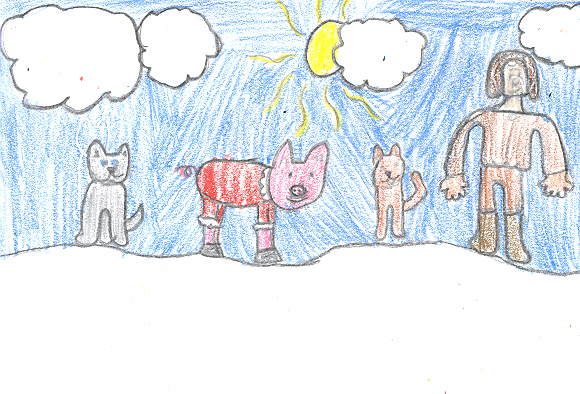 "Oink! Oink!" Come join the adventure with Flora in The Adventures of a South Pole Pig by Chris Kurtz.
To start off, Flora is a pig. She had many brothers that aren't interested in going on an adventure like Flora was. She wanted to explore the world outside the pigpen. Then one day Flora met a cat named Luna who had a pearly white coat of fur. Every day Luna would return to tell Flora of her adventures outside the pigpen. One day, a rat was in the pigpen frightening Flora's brothers and her mother. Luna sank her fangs into it to kill the vile creature. A few days later, Flora broke out of the pigpen and raced with some dogs. She got caught and had to return to the pigpen. The next day, Flora got taken to a ship where she met a dog named Oscar, a cat named Sophia, and a boy named Aleric. They sailed to the South Pole. On the boat, Flora, Sophia, and Aleric fought rats. Then, a storm came and they were thrown overboard. If you want to find out more, read this book!
In addition, my favorite part was when Flora, Sophia, and Aleric were fighting rats in the hold of the ship. Aleric lured them out, Flora kicked with her hooves to stun them, and Sophia finished them off with her fangs. This was great teamwork. I enjoyed this book very much. I enjoyed it because there were some amazing things that happened including a pig getting to take a trip to the South Pole. In this book, I liked Oscar the dog the most. I liked Oscar because he almost never gave up and had a kind soul.
In conclusion, I recommend this book for people seven and up. If you like books with action, adventure and perilous situations, then this is the book for you!