Rump: The True Story of Rumpelstiltskin
Written by Liesl Shurtliff
Reviewed by Ellie L. (age 9)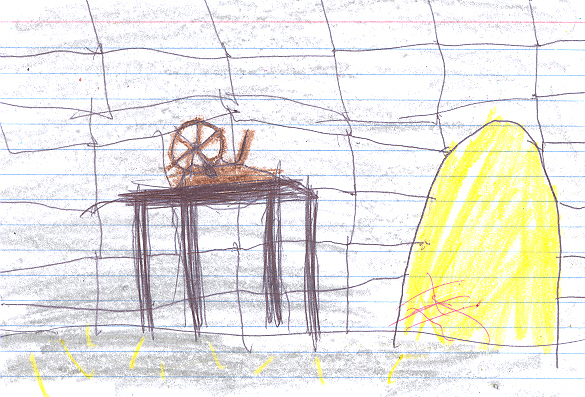 "Whirl, Whirl, Whirl", read Rump, to find out about the true story of Rumpelstiltskin, by Liesl Shurtliff.
This is the story of a boy named Rump, but many people call him Butt. Rump's mother died when he was born. He never found out his real name. His mother whispered it into his ear when he was born, but all his grandmother heard was Rump. This story teaches you the lesson to not be greedy, or else bad things might happen. Such as, in the story, Rump was greedy and spun gold and then his grandmother died and he was living alone. The spinning gold continues to be a problem as Rump tries to help a girl be freed from a greedy king.
I thought this book was very good because I thought that it was interesting hearing about Rump being able to spin gold. That would be fantastic if it was real! Also, it was kind of sad because Rump was living all by himself and he only had a couple friends and barely any food. This made me feel sorry for him. One more thing I liked about this book was how it was in a land with magical creatures. Some of these included dwarfs, witches, trolls and pixies and their bites that hurt worse than poison ivy and bee stings combined!
In conclusion, I recommend this book for anyone who likes stories that teach lessons. Also, for anyone who loves to read and maybe even spin gold!