Dorko the Magnificient
Written by Andrea Beaty
Reviewed by Christopher J. (age 9)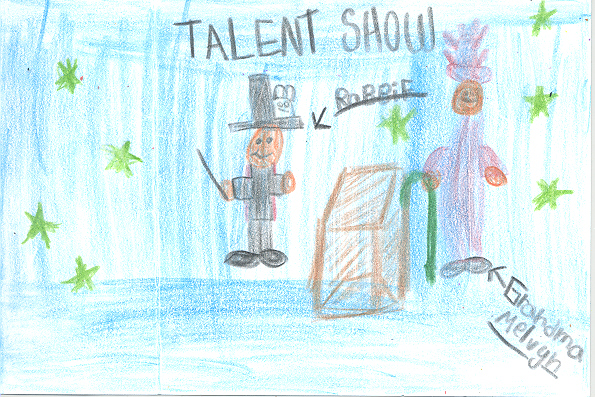 Ting! Ting! Ting! Ladies and Gentlemen, come join Robbie Darko in "Dorko the Magnificent" by Andrea Beaty.
To begin, Robbie Darko is also known as "Dorko" thanks to Mr. Nate Watkins, a fifth grade loser. Robbie absolutely loves to do magic tricks, even though last year's show stunk, he's still working on having the best show Hobson Elementary School will be talking about, even long after he graduates. Robbie plans a special show for his Mom's birthday, he's been practicing this trick for days now and can't wait till it's time. Robbie sets up the table with a nice red tablecloth. He pulls the tablecloth very fast hoping that everything will stay in the same place, and "Ta-Daaaaaaa" a glass fell over a candlestick, which fell over and caught a napkin on fire and "WHOOOOOOOSH" the fire spread across the table. The trick was for everything to remain the same when the tablecloth was pulled. Grandma Melvyn who calls everybody "Trixie" and gives the Wicked Wobble Eye look that is not very nice, thought the magic show was amazing and suggested that Robbie should work on his bow. She ends up helping him to be a better magician and learn a few of her tricks.
In addition, my favorite part is when Robbie finds Grandma Melvyn's real magician cabinet and he starts to wonder what Grandma Melvyn can know about magic. Grandma Melvyn noticed the interest Robbie had in having the best show for school, Grandma Melvyn decided to teach Robbie a lesson almost every day, and she even approved of Cat who is Robbie's friend to be part of an act. This book also tells a lot of details and it makes you feel as if you're part of the show. I couldn't wait to read about the final show at Hobson Elementary School. The final show finally took place and somehow Grandma Melvyn, who was sitting in the audience, came out of the magic cabinet and the crowd went wild, Grandma Melvyn even made Principal Adolphus disappear. These details made the story almost real! My favorite character was Grandma Melvyn. Grandma Melvyn was a very interesting character. You learn that she was so grumpy because Marvin the magician who she worked with and she liked and got married to, got in a car accident hours after they married and died. I felt very bad for her!
In conclusion, this book is very catchy, and I found myself having a hard time putting the book down because I wanted to know if Dorko was going to be confident enough to live that moment he wanted so bad of "Magic" and also why Grandma Melvyn was always so serious but at the same time so knowledgeable. I recommend this book to everyone who needs some magic!