Officer Spence Makes No Sense
Written by Dan Gutman
Reviewed by Tessa C. (age 9)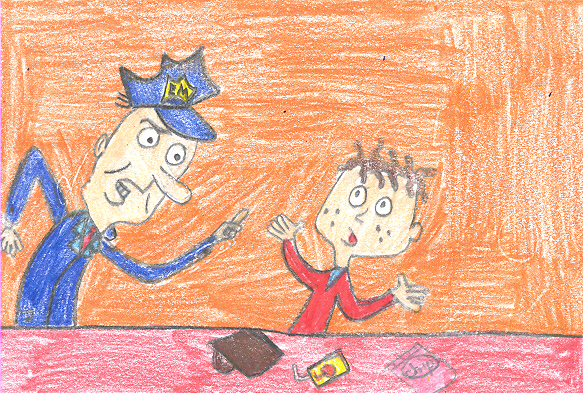 What did I do? If you like books about policemen arresting people, then check out the book called Officer Spence Makes No Sense by Dan Gutman.
To begin with, this book is mainly about a boy named A.J. who can't find his peanut butter and jelly sandwich in his lunch. His mother always packs them. A.J. needs help to find his sandwich and there is this school security guard named Officer Spence who will arrest anyone he can. But A.J. told Officer Spence that he didn't really need the sandwich, but Officer Spence looked anyway. Will Officer Spence find the bandit? He will arrest people until he does!
In addition, my favorite part of this book was when Officer Spence keeps on arresting people. This shows that Officer Spence looks out to get people. One character that was interesting was A.J. I think he is interesting because when Officer Spence attaches wires to A.J., he has a simulator that tells him if he is lying. This simulator showed that sometimes he could be lying. One last thing is that this book is part of a series. The series is the My Weird School series. One of the other books I've read is called "Miss Child Has Gone Wild!" In that book they have a field trip to the zoo with a crazy zookeeper.
In conclusion, I recommend this book for anyone ages 5-9 that likes to read funny books. This book is so weird, you won't want to stop reading it!