Ricky Ricotta's Might Robot vs. The Jurassic Jackrabbits from Jupiter
Written by Dav Pilkey
Reviewed by Christopher J. (age 9)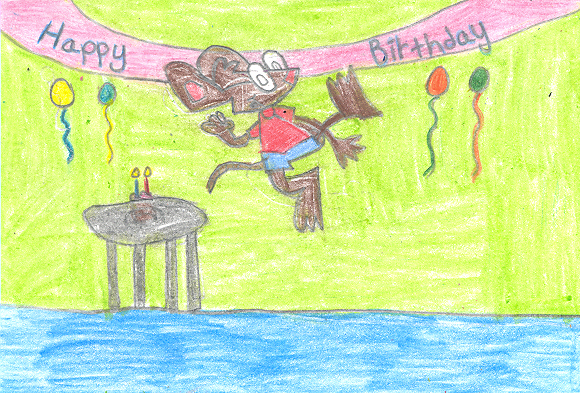 "Pow! Take that!" Come join Ricky Ricotta and his mighty robot on a crazy fight. Then read the book Ricky Ricotta's Mighty Robot vs. The Jurassic Jackrabbits from Jupiter by Dav Pilkey.
To begin with, Ricky wakes up and looks at his calendar. He notices it's his birthday! For breakfast his parents made him peanut butter pancakes. His parents bought him a bike for a present. They also planned on taking him, his robot, and his cousin Lucy to the museum. While that's happening General Jackrabbit is in Jupiter planning to take over Earth. Now it becomes Ricky and the robot's job to make these huge, crazy rabbits go away!
In addition, the author of this book Dav Pilkey, is also the author of Captain Underpants series. Both of these book series' are really funny and creative. My favorite part of this story is when Ricky's robot starts fighting the Jurassic Jackrabbits. This is my favorite part because the action of the fight is a lot of fun to read. Also, Ricky has a robot that is like a brother to him. I have a brother named Christian so I know how Ricky feels about his robot.
In conclusion, I suggest this book for kids ages from 7-10. This book is part of a great series. I am going to read them all and so should you!