Rump: The True Story of Rumpelstiltskin
Written by Liesl Shurtliff
Reviewed by Ekaterina S. (age 9)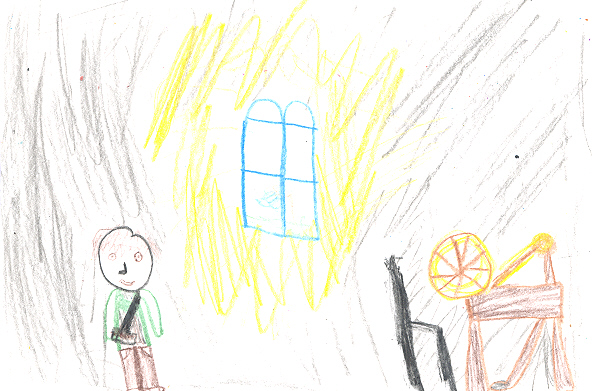 I wish I could spin gold! I read the book Rump: The True Story of Rumpelstiltskin by Liesl Shurtliff.
To begin, this book was about a twelve year old boy named Rump. Rump was a magical boy who had a special gift of spinning straw into gold. Rump discovers that he can spin straw into gold when he finds an old spinning wheel. Rump has a good friend named Red who warns him that it is dangerous to spin gold because it can bring on a dangerous curse. Rump doesn't listen to Red and starts spinning straw into gold to trade for food with the miller in the village. There is a king who loves gold and comes to the village looking for more gold. The miller lies and tells the king that his daughter Opal spins the gold. So the king takes Opal to his castle and keeps her in a tower to spin straw into gold for him. Rump goes to help opal at the castle and spin her gold.
My favorite part of the book is when Rump gets caught by the trolls in the apple tree. The trolls took Rump back to their camp and told him they were going to eat him and Rump screamed, "Eek! Eek! Please don't eat me!" I thought that was funny because the trolls were teasing him about eating him. I liked that this story had magic. The magic made the story very exciting and fun to read. Also, I liked Rump as my favorite character because he is the main character. He is like me because we both try to help others.
In conclusion, this book is great for all kids ages 8 and up. You will like this wonderful fairy tale!