Mr. Popper's Penguins
Written by Richard and Florence Atwater
Illustrated by Robert Lawson
Reviewed by Mark M. (age 8) & Grant A. (age 9)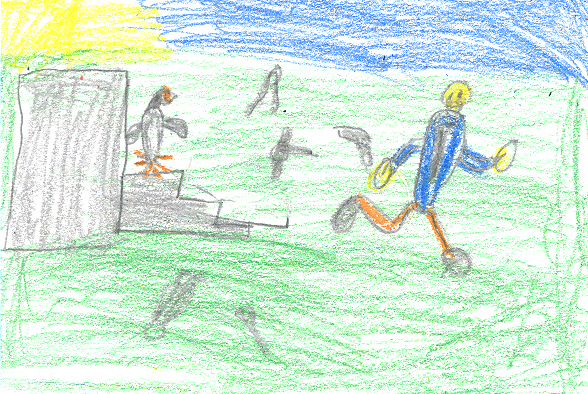 Squawk! Do you want to have a penguin as a pet? If you have had this dream, then this book is for you. The name of the book is Mr. Popper's Penguins by Richard Atwater.
To begin with, a man who loved Antarctica wanted to have a penguin. His favorite Antarctic explorer that he listened to on the radio sent him one! Mr. Popper first kept it in a warm place but then he had to make his house cold to help the penguin survive. In the winter, the penguin was sad so he had to get another Penguin. Soon the second penguin started laying eggs. Baby penguins were born and then all of the penguins started to get very busy and helped Mr. Popper to earn money by creating a penguin show. They were very popular and traveled to many places for their show.
In addition, we like this book because it is funny. It is funny because the penguins are always doing funny things and it is really funny to see read about a house that has snow in it for penguins. Our favorite part is when everyone goes ice skating in the house. They were able to do this because they created an ice pond in the basement for the penguins. We really liked the family characters in the book. They are Dad, Mom, Janie and Billy. The kids are just regular kids like us at first, but then the penguins change everything for them!
In conclusion, this book is fun to read for ages 8 to 12. You will be very happy that you tried this book!