Bad Kitty School Daze
Written by Nick Bruel
Reviewed by Nina R. (age 9)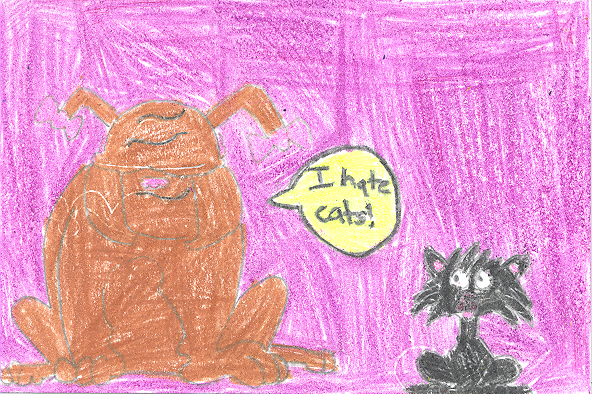 What would you do if a cat was in your class? If you like books that have trouble makers in them, you should read the book Bad Kitty School Daze by Nick Bruel.
To begin with, this story is about how a cat and dog start to fight about something. Then, later they end up in school together. They try lots of new things at school and they have to try to be good. My favorite part of the book is when Butuna the bull dog said, "I hate cats! I just hate them so much! I hate their eyes! I hate their noses! I hate their goofy looking whiskers!" This was funny because Butuna was all angry and she had a silly face on. The illustrations helped to show how she felt.
In addition, I found this book interesting because it reminds of myself. It reminds me of myself because sometimes I hate my brother because he is so mean, and in the story Butuna hates cats. Also, I liked this book because I liked the character Bad Kitty. I like this character because he always seems to get in trouble and gets scared too. This book also reminds me of my friend Casey. It reminds me of Casey because Casey doesn't like cats and in the story Butuna doesn't like cats.
In conclusion, recommend this book for ages seven to nine. Buy this book and read it yourself! You will love it!