Tonight on the Titanic
Written by Mary Pope Osborne
Illustrated by Sal Murdocca
Reviewed by Brandon N. (age 7)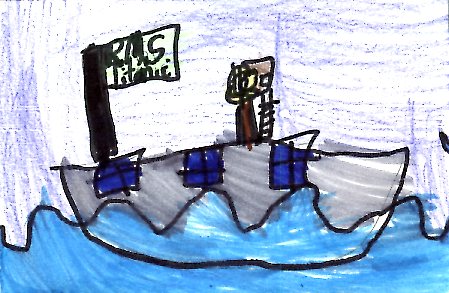 Jack and Annie find a dog in the treehouse. The dog is under a spell and needs their help. They look in a book and are whisked to the Titanic. The Titanic hits an iceberg and Jack and Annie try to help find lifeboats. After that, Jack and Annie meet Lucy and William when they go below deck. Finally, Jack and Annie help William and Lucy onto a lifeboat. Lucy gives Annie a pocket watch that helps free the dog from the spell. They go home and sleep in their own book.
My favorite part of the story is when Jack and Annie save the two kids because otherwise they would have sunk into the Atlantic Ocean. My least favorite character is the captain because he was going to throw Annie off of the Titanic. This story relates to my life because I like to read like Jack.
I think others should read this story, especially if you have been on a ship before. This story is dark, scary, and shows bravery.