Earrings!
Written by Judith Viorst
Illustrated by Nola Langner Malone
Reviewed by Guadelupe D. (age 9)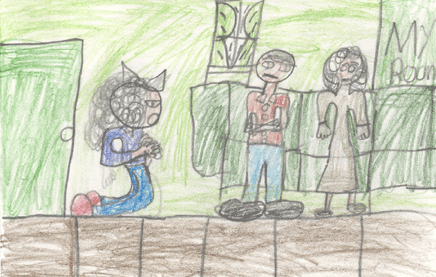 The story Earrings is about a girl, whose parents won't allow her to have earrings. They won't let her have earrings because they don't think she is mature enough. She is begging and crying. She starts at home in the morning during breakfast. She also begs during lunch and dinner. Do you think the girl got earrings? (No but she keeps begging for earrings.)
The big idea of this story is to beg and beg your parents until they make their mind up. My favorite and funniest part of the story is when the girl says "I want them now, not when I'm 20,40,80,100." I learned to beg my parents until they say yes. I like the pictures because they are very funny. The book made me feel sad because she really wanted earrings. The story reminds me of the time my sister was begging my mom to pierce her ear.
I think kids in 2nd or 3rd grade would like to read this book and my neighbor Patsy. I think Patsy would like to read this book because she likes to read books that have funny pictures. It has funny words and things that don't make sense which makes it funny.