Capture the Flag
Written by Kate Mesner
Reviewed by Quinn B. (age 9)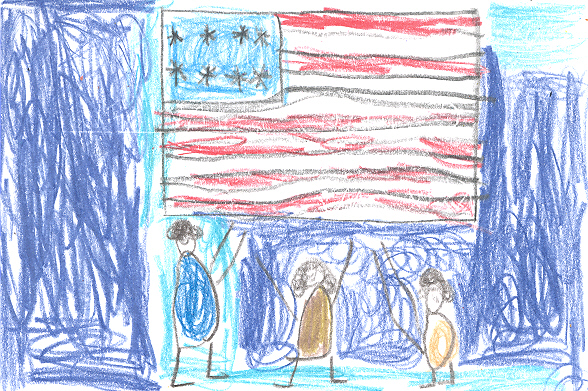 What would you do if the the flag that inspired the Star Spangled Banner had been stolen? The book Capture the Flag by Kate Messner is an amazing adventure that answers that very question!
As the story begins, three kids Anna, Jose, and Henry are all snowed in at an airport. Eventually, they all talk and find out they are all part of a secret society, known as the Silver Jaguar Society. Watching the news they find out that the flag that inspired the Star Spangled Banner had been stolen! Anna believes that the Flag is in the airport and that it is their responsibility to retrieve the flag as members of the society. She tries and learns she will need friends along the way.
I like this story because it is a book with lots of action and strong friendships. I also enjoyed it because of the spy-like, detective theme. There was a huge character twist, with one character that the reader will believe is one of the good guys, but is revealed to be the villain! As I was reading this book I thought I was in it! It really made me ask myself, "What would I do?" Many times I would feel like I was there in the airport with Anna, Jose, and Henry.
I would definitely recommend this book because of its constant action and adventure! I also recommend this book because it has historical facts snuck into it. It is a book for 7-99 year olds. Boys and girls alike will love this book! People will love this book because of its child characters, it's funny and captivating plot, the detective genre, and the setting of an airport with the biggest snowstorm ever raging above it!