Hooper Finds a Family
Written by Jane Paley
Reviewed by Sophia L. (age 8)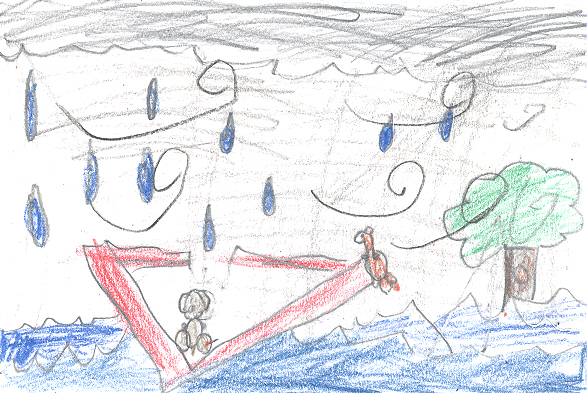 Even animals can find their way through big tragedies. Hooper the Dog is no exception in Hooper Finds a Family: A Hurricane Katrina Dog's Survival Tale by Jane Paley.
In the beginning, "Hooper" is really named Jimmy and lives with a family and in a place that he loves. Everything changes for Jimmy during the 2005 major hurricane Katrina when he becomes separated from his family and home during the storm. Jimmy was not the only animal to have lost his home and a big part of the story was how a team of rescuers found and sheltered the lost animals until they were placed in new homes. Before long, a family from New York City adopts him and in his new life he is named Hooper. The new home in the city brought many changes as the family learned to love Hooper and Hooper learned to love them.
My favorite part of the book was when Hooper walked up to his new city nemesis Howard the Squirrel and Howard teased him about how he could not bark and Hooper walked up and said "WOOF!" That scared Howard so much that he ran up the tree like a grey streak. I liked the part of the story because it showed how Hooper learned how to stand up for himself. I also like this book because it showed how Hooper's new owner Larry changed from disliking Hooper to loving him. The beginning of the book made me feel sad because of the hurricane and then hopeful towards the end. It made me think that there were many animals during the hurricane that found happy new homes.
I recommend this book for everyone who likes dogs and other pets. If you like books that fill you with hope, then Hooper Finds a Family will fill you up and so much more. WOOF!