Bad Kitty vs. Uncle Murray The Uproar at the Front Door
Written by Nick Bruel
Reviewed by Mark M. (age 8)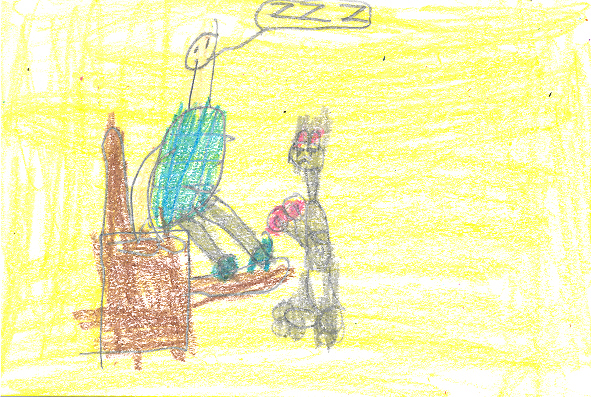 Meow!! This book is Bad kitty vs. Uncle Murray and this book is a little crazy! That's why I liked it!
To begin with, this book was about Bad Kitty when his owners left him alone at home with puppy. Uncle Murray comes to pet sit them both. Bad Kitty didn't like this at all. He wanted to go with his owners on vacation! So Bad Kitty kept trying to hide from Uncle Murray and he caused trouble by doing things like pretending to be a pillow to scare Uncle Murray. Uncle Murray gets mad at that! Soon enough, they start to get along and Bad Kitty thinks Uncle Murray will take good care of them.
I like this book because it is funny. Bad Kitty does funny things like the pillow part and hiding in the closet with puppy and when he got hungry and he started dreaming that puppy's leg was a chicken leg! So he bit his leg! Hahaha! My favorite part of the book is when Bad Kitty spins super-fast and turns into a mini tornado of cat fur. Then all of a sudden tones of cats attack Uncle Murray and then Uncle Murray goes crazy and walks out the door with puppy. Puppy reminds me of my dog Louie. I had to give my dog away, but puppy makes me think of how much I loved him just like Uncle Murray loves puppy!
In conclusion, I recommend this book to everybody who likes cats and dogs! You will enjoy this fun animal story.