The Adventures of a South Pole Pig
Written by Chris Kurtz
Reviewed by Grant A. (age 9)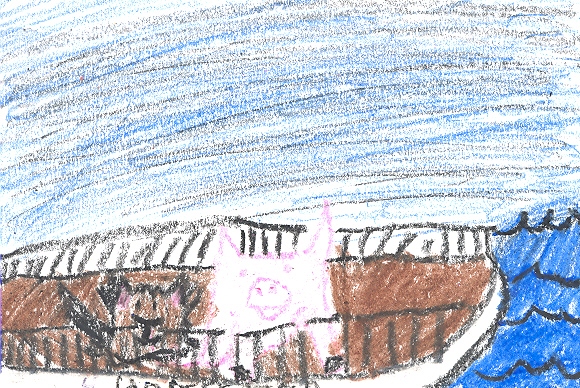 You want to know where brains and talent come from? In this book, from a pig, cat, dog and a boy in The Adventures of a South Pole Pig, by Chris Kurtz.
Flora, the pig, dreams of being out of a cage and being a sled dog. In her adventures, she begins by being in the hold of a ship competing for food with the rats and becoming friends with Sophia, the cat. There is a shipwreck. Flora saves the Captain of the ship. They all end up in Antarctica. A sled dog, Oscar, and the cabin boy, Aleric, with Flora and Sophia use their brains to locate food and supplies to survive.
One of my favorite parts is a chapter in the book where Flora and Sophia lose the trail of Aleric and Oscar in the snow and ice of Antarctica. In this chapter Sophia's paws begin to bleed. It's a favorite part because I didn't know what would happen. Flora talks Sophia into letting her carry her on her back. Another thing that made this book interesting was there was always the threat of Flora being eaten. However, the Captain never allows it. This made me think the Captain was one of the best characters in the book. Finally, I enjoyed this book because of the animal characters. I like reading books the most when they are about animals.
In conclusion, this book is recommended for kids ages 8 and up. It inspires friendship, loyalty and gratitude. Dreams do come true, even if you're a pig!