Bad Kitty vs. Uncle Murray The Uproar at the Front Door
Written by Nick Bruel
Reviewed by Farid M. (age 8)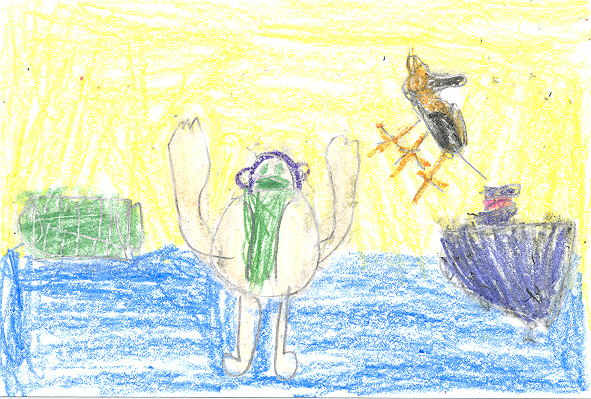 Meow, meow! I really liked reading the book Bad Kitty vs. Uncle Murray by Nick Bruel.
To begin with, this book was a comedy because Uncle Murray comes to kitty-sit Bad Kitty and puppy. At the start of the story, Bad Kitty's owners were going on a little trip. When puppy went to go get the door, Uncle Murray was there. They were surprised to see him. Uncle Murray comes in and soon tries to get lunch and kitty screams like this: "SCREEECH!" Since kitty's owners are gone though, Uncle Murray has to take care of them and clean the house. This is not always easy with Bad Kitty in the house!
Also, I like this book because it's funny and has a lot of action. Bad Kitty is always acting up so that gives the action. I found puppy to be interesting. He's interesting because he liked Uncle Murray but kitty didn't. My favorite part was when all the cats in the neighborhood attacked Uncle Murray and Fantastic Cat and Power Mouse hit him in the head with a spatula. This was so funny that I couldn't stop laughing.
At last, I recommend this book for 7 and up. This is why I like Bad Kitty vs. Uncle Murray by Nick Bruel. Visit your local library and see if you can find it!