The Wish Stealers
Written by Tracy Trivas
Reviewed by Drew L. (age 8)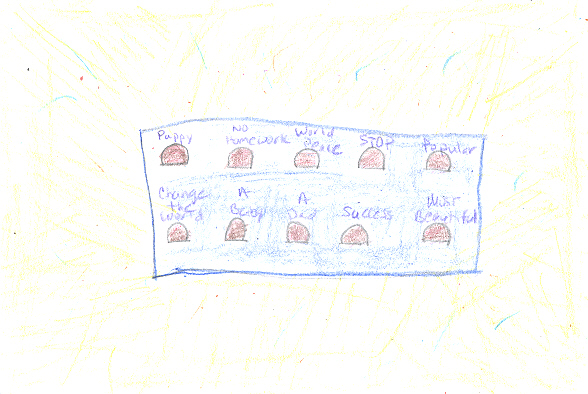 Plop! Throw a penny in a fountain and make a wish....if you believe wishes can come true, you should read the amazing book Wish Stealers by Tracy Trivas!
It begins with a 12 year-old girl named Griffin Penshine stuck in her house because of a bad rainstorm. Her mom says" I have to go to Mr. Schmidts gift shop in this bad weather''. I'll go with you'' says Griffin. When they arrive at the store Mr. Schmidt and this old woman, Mariah, were talking at the front desk. The old woman looked at Griffin closely. She had yellow beady eyes. Mariah gave Griffin a box. ''I know we've never met but this is a gift from me to you.'' says the old woman. Griffin opened the box and 10 shiny indian head pennies were inside. Each one had a label on the back. They read; puppy, no homework, STOP, change the world, popular, a baby, a dad, success, world peace, and last most beautiful. The book tells the story of how each penny ended up in the old women's box and what Griffin does with each of them. It is very mysterious and it will surprise you.
As I read this book, I was amazed at all of the drama. A great part was when Griffin makes a wish under her breath and it happens. She turned a mean girl Samantha in her class to look like a lizard. She learned that only her evil wishes will come true. It made me think what would happen if this were real and what I would chose to do with this power. Something I feel that is special about this book is the main character Griffin, knew she had a problem and then she fixed it.
I recommend this book to anyone 7 to 70 who likes the idea of wishes coming true. Reading this book you will learn that if you try really hard, you can stay good even if someone tells you that you are bad. It is an awesome book!