The Complete Adventures of Big Dog and Little Dog
Written by Dav Pilkey
Reviewed by Yasmil Z (age 6)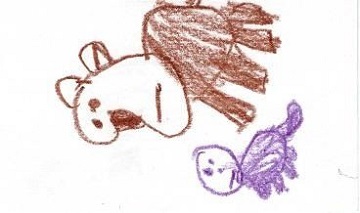 The book is about the adventures of big dog and little dog. They were both hungry and big dog got some food and then little dog got some food too. They were both happy. After they ate, they went to sleep. The next day they went for a walk and chased a skunk because they thought it was a kitty. The skunk sprayed them, ssssssssss. They had a bad day and they were stinky. The next day they were taking a walk. Big dog was eating the mud and little dog was dirty. Then they were splashing in the puddle and Big dog drank from the puddle. They went home for a bath and shake to dry off. They were trying to rip the couch and they made a big mess. They made a big big mess. The girl comes home and the dogs were making a mess and they were sorry.
I liked the book because it was fun to read. I liked it when the dogs took a bath and were clean. I liked it when they wanted to take another walk. I like the pictures in the book. The pictures were nice because it show what the dogs are doing. My favorite part of the book is when the skunk sprayed them because I like dogs getting dirty so you can clean them.
I think my teacher and other kids will like this book because it was funny. The book would be easy to read for my brother, he is 11 years old.