Arthur's T.V. Trouble
Written by Marc Brown
Illustrated by Marc Brown
Reviewed by Blake L. (age 8) & Robbie M. (age 7)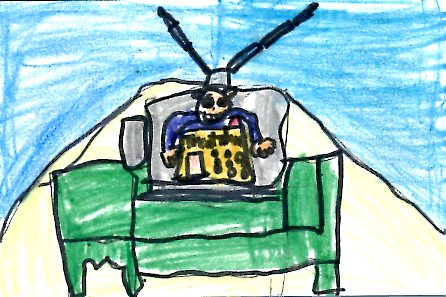 In the story, Arthur's T.V. Trouble by Marc Brown, Arthur sees a treat timer on television and wants to buy it for Pal. He counts his birthday money, but doesn't have enough. He still needs 12 dollars. Finally, he works for Mr. Sipple and earns the money. At the end, Arthur has enough money to buy the treat timer.
Our favorite part of the story is when the treat timer shoots out treats on the commercial because it's really funny. Our favorite character is D.W. because she is funny and a little weird. This story does not relate to our lives. The pictures help tell the story because it shows what's happening like the newspaper flying out the window.
We think that other people should read the story because it will make you laugh.