Thumper Finds a Friend
Written by Laura Driscol
Illustrated by Lori Tyminski, Maria Elena Naggi, Giorgio Vallorani, and Doug Ball
Reviewed by Elijah A (age 7)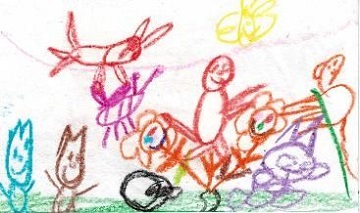 This book is about a bunny that finds a friend and his name is Thumper. Thumper is playing hide and seek with his sisters when he finds a hedgehog. The hedgehog is scared of Thumper so he hides and curls up into a ball. Thumper gives the hedgehog berries, but then he eats it all. Thumper plays with his sisters and then he calls the hedgehog. Thumper looks back and he's gone. The hedgehog comes back and plays with Thumper and his sisters. Then the hedgehog and Thumper are best friends.
I like the book because it's cute. The characters are friendly and beautiful. Everything is colorful. I liked all the animals; bunnies, bees, butterflies, squirrels, mice, birds, and the hedgehog.
I would recommend this book to my mommy because it's adorable and cute. I love this book so much, everybody should read it!