Mercy Watson Thinks Like a Pig
Written by Kate DiCamillo
Illustrated by Chris Van Dusen
Reviewed by Bianca P. (age 7)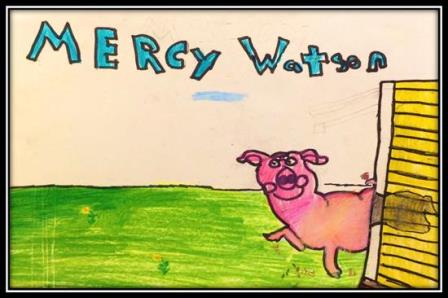 Dear Reader,
Do you like Piggy and Gerald? How about Frog and Toad? Well, let me tell you about Mercy Watson, another funny, lovable character. Mercy is a pig that is spoiled. She is not only funny, but mischievous.
In Mercy Watson Thinks Like a Pig she was the most mischievous thing on Earth because next door the Lincolns had just planted new pansies. Can you tell what Mercy does to the pansies? But I don't want to give too much away!
Mercy is funny because thinks she is one of the people in the family. She loves toast with a great deal of butter on it. Mercy is dreaming of mountains of butter and toast.
Another reason Mercy is so funny is because she went to a tea party and wore a funny hat. She was upset because the tea and cake weren't real! Now, that is funny, right?
I feel excited because I think I have convinced you to read the whole entire series of Mercy Watson. Also, I think you will love the Mercy Watson series because I think you would love the funny and mischievous Mercy. I hope you do.
Happy Reading,
Bianca