Frog and Toad are Friends
Written by Arnold Lobel
Illustrated by Arnold Lobel
Reviewed by Madeleine (age 7)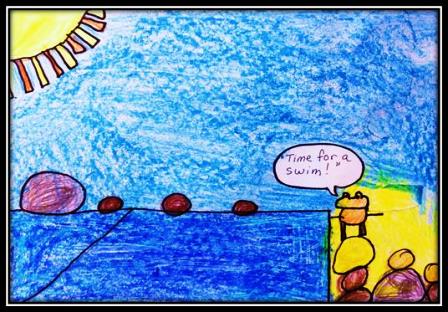 Dear Reader,
Do you like the book Frog and Toad, The Story? If you do, great! Then you should read Frog and Toad, The Swim. This is a funny book about Frog and Toad going for a swim. Frog doesn't have a bathing suit but Toad does.
In the beginning of the book they jumped in the water and I thought it was so funny because Toad kept telling everyone not to look at him in his bathing suit. It is really silly. The pictures will help you to understand how silly it really is. In fact, Arnold Lobel won a Caldecott Medal for Frog and Toad!
Another reason Toad is so silly is because he wouldn't come out of the water because there were animals watching Frog and Toad swim. He stayed in for a long time! I thought it was really funny that Toad kept saying, "Do not look at me!" I think he was kind of embarrassed.
If you read this story I'm sure you will like what happens in the rest of the stories in this book.
Happy Reading, Madeleine