Frog and Toad All Year
Written by Arnold Lobel
Illustrated by Arnold Lobel
Reviewed by Ethan S. (age 8)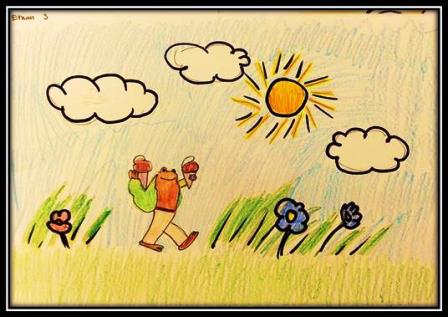 Dear Reader,
I would like to tell you about the book Frog and Toad All Year because it is a very classic book and it teaches a lesson I think is very good.
In The Story, Frog and Toad show that a friend will always help another friend. Frog and Toad have a good friendship. They do everything together. In this story, on a hot day, Toad buys ice cream for Frog and himself because he wanted to do something nice for his friend. On the way back to Frog all of the ice cream melts over Toad's eyes and he falls into the pond. Now there is no ice cream. Toad feels badly but Frog comes up with an idea to go get more ice cream and to sit in the shade under a tree together.
I think that boys and girls will really love this classic book because Toad is so silly and because both boys and girls have a friend that they could help. Author Arnold Lobel brings Frog and Toad to life by putting clothes on them and making them talk and act like people. I would tell my friends about this book because it is very funny and makes me feel happy.
In conclusion, I think that this book would be a great book for kids to read. It is funny and silly, but most of all it shows that a friend will always be there to help another friend.
Happy Reading,
Ethan S.