Junie B. Jones Has a Monster Under Her Bed
Written by Barbara Park
Reviewed by Ella O. (age 8)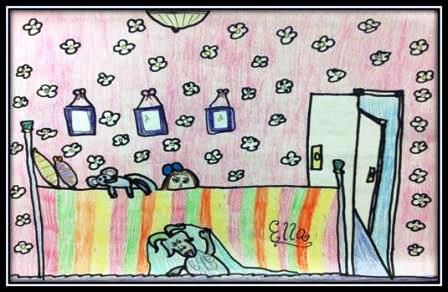 Dear Reader,
Have you ever had a time when you were scared to death to do something? Do you love funny characters? Then this is the perfect book for you!
I personally think that Junie B. Jones is absolutely HILARIOUS because in this particular book, Junie B. Jones Has a Monster Under Her Bed, she is scared of something that isn't even real! For example, Junie B. Jones thinks that there is a monster under her bed and she is scared at night, so she asks her Grandma to suck it out with the vacuum cleaner! The pictures in the book show that Junie B.'s grandma is actually doing it! Junie B. has the funniest ideas. She is my all-time favorite character!
Another reason Junie B. is so silly is she has terrible school pictures, so she puts them under her bed to scare the "monster" away. How crazy is that?!!
Junie B. is a very funny character. She is always trying to think of an idea to solve a problem, but the idea she thinks of is always so funny! You will absolutely love this character.
So now, I think you will agree with me that Junie B. Jones is a funny and lovable character, and I think you will love this book so much that you will want to read more!
Happy Reading,
Ella